A Short Guide to Unique Wedding Venues in CT
Connecticut is known by many to be New England's most stunning and gorgeous state. As one of the original 13 colonies, there is an abundance of historic and enticing locations to host your wedding. Whether you picture the wedding of your dreams at a romantic winery or vineyard, a rustic barn, a majestic mansion or castle, a luxury banquet hall, waterfront, or an outdoor wedding, you are sure to find a wedding venue in Connecticut. We realize that choosing a wedding venue for your most special day can be an overwhelming task. So we have taken the time to compile a list of some of our favorite unique wedding venues in CT for you to consider celebrating your wedding ceremony or reception.
But, first, let's look at the ten tips you need to find the perfect CT wedding venue for your big day.
10 Best Tips for Selecting a CT Wedding Venue
Whether it's a grand affair or an intimate gathering, your wedding in Connecticut may very well be the biggest event of your life and a milestone in your relationship. It's definitely a once-in-a-lifetime experience, and engaged couples in CT typically spend months or even years planning every detail of this occasion so that everything is perfect on the day they say their "I dos."
One of the most important decisions you need to make is choosing your CT wedding venue. Not only does it set the tone for how the event will look and feel but it also locks in the date for the celebration! Here are 10 valuable tips for selecting the perfect venue for your Connecticut wedding.
 

Consider your vision for the big day.
Ultimately, the wedding space should cater to the couple's vision and reflect their personalities and styles. Traditional (and practical!) pairs may consider tying the knot in indoor venues such as hotels, ballrooms, and country clubs, while free-spirited, laid-back couples may gravitate towards more relaxed spaces such as the beach. For homebodies, small and intimate backyard soirees might be perfect! Bottom line: It's important to stay true to who you are individually and as a couple.
 

Think of your guest list.
Your guest count will dictate the size of the right CT wedding venue for you. Before you even start looking at possible sites, it's crucial to have a number in mind and commit to it! This way, you can avoid the stress of having to choose between a venue that you fell in love with or making cuts on your list. It doesn't need to be exact, but a good estimate will let you pick the right space with confidence.
 

Review the floor plan.
Before you sign that contract, consider if the event has space for all the aspects of your wedding. Apart from your guest seating, you may want additional tables for your gifts, cocktails, or your wedding cake. If you want lounge furniture or a photo booth for your guests, you also have to consider those in the decision-making process.
 

Stick to your budget.
Budget is arguably the most important consideration when planning your big day. You don't want to go into debt for your wedding expenses, so make sure to pick a wedding venue in Connecticut that won't break the bank.
 

Gauge your interactions with the venue coordinator.
You or your wedding planner will be dealing with the venue coordinator a lot to finalize the details of your event, so it's important that you feel at ease with them.   
 

Think about your guests' experience.
You want your guests to be comfortable and have a grand time at your wedding, so you need to keep them in mind when choosing your wedding venue in Connecticut. Some of the factors to consider are accessibility, availability of parking spaces and bathrooms, curfew, and noise constraints.
 

Consider venue restrictions.
Some CT wedding venues are strict when it comes to bringing in your own vendors. They may want you to use their preferred (or in-house) caterer, alcohol, wedding planner, floral company, band, and many others. If you prefer to choose your own suppliers, be sure to pick a venue that accommodates that.
 

Determine your ideal wedding date.
The season when your big day will fall can be helpful when choosing a wedding venue in CT. A beautiful outdoor garden is perfect for a summer wedding, while a cozy and romantic ballroom is ideal for a wedding in the winter.  
 

Get organized.
It's important to keep all the pertinent details about the venues you've toured in one place! An organized spreadsheet allows you to keep track of everything, making it much easier for you to make that final decision.   
Check out the reviews
See if you can find feedback on your possible wedding venues. You may also find helpful ideas as you do your research.  
Now that you know how to select your wedding venue, read on for a comprehensive list of Connecticut wedding venues that you can explore.
If you're looking for an award-winning CT Wedding DJs company specializing in making your wedding the best of your life, learn more about the entertainment we can provide for your wedding day here.
5 Unique Romantic Wineries and Vineyards
There's something enchanting about getting married at a winery or vineyard. Each month, we'll list some of our favorites for you. This month, we're sharing five of our favorite winery and vineyard wedding venues in Connecticut.
1. Preston Ridge Vineyard
Preston Ridge Vineyard is named after its location in Preston, Connecticut. They are a family-owned vineyard that hosts weddings and is easily accessible from other popular vacation destinations. Conceived to be a state-of-the-art wedding venue, the plans turned into reality when construction finished in 2012. Since then, it's been one of the top-rated wedding venues in CT.
Preston Ridge Vineyard is situated on 60 acres of rolling hillside, boasting panoramic views of the quintessential Connecticut countryside. This wedding venue has a newly renovated barn next to an open-air tent – available for your wedding reception or ceremony. One of the more intimate, the site hosts up to 175 guests – allowing you to take in the dreamy atmosphere and natural setting without feeling rushed by having to greet 300 wedding guests.
The kindhearted owners and attentive staff are more than happy to help you with all the details of your CT wedding dreams. Some other services include a gorgeous deck for your cocktail hour, a bridal suite for you to get your hair and makeup ready, a tasting room (of course!), and two staff members to help you enjoy your wedding day without stress.
Address: 100 Miller Rd, Preston, CT 06365
Phone: (860) 383-4278
2. Jonathan Edwards Winery
Jonathan Edwards Winery is a beautiful wedding venue located in North Stonington, Connecticut. Situated on 20 acres with views of their estate-grown vineyards, your wedding is sure to have a romantic ambiance. And the local area has even more to offer, especially for a destination wedding: charming beaches, delightful farm country, and quaint historic seaside towns.
The winery can host up to 75 guests in its indoor section and 200 guests in its outdoor space. Wine aficionados – a seated reception in The Barrel Room is an intimate atmosphere to display your love of wine. Or if you'd like to take in the panoramic views of North Stonington, the outdoor tented area is an excellent option for you.
Picture yourself enjoying a cocktail hour hosted in the tasting room, deck, or stone patio with a stunning backdrop of the rolling hills and vineyards in the background. There are three different caterers and an event coordinator at this venue to help you with your wedding. They will take care of you to ensure that you have no stress about your wedding day's food or coordination. The venue can also provide you with additional services such as setup, cleanup, a bridal suite, bridal shower, engagement parties, and rehearsal dinners. And because your special day is so important at Jonathan Edwards Winery, they only host one large event per weekend. This venue is open year-round.
Address: 74 Chester Maine Road, North Stonington, CT 06359
Phone: (860) 215-3725
3. Saltwater Farm Vineyard
Saltwater Farm Vineyard is another one of our favorite venues in CT. They are an exclusive wedding destination situated in Stonington, Connecticut. This venue is unprecedented because it is a WWII-era private airport with a hangar on 100 acres of land, designed by world-renowned architect and engineer John W. Lincoln. If that wasn't enough, it also features a 15-acre vineyard that boasts six different grapes varieties. Since its time as a hangar, the structure has served several purposes: a warehouse, restaurant, light manufacturing facility, and finally redesigned to be a distinguished wedding venue.
The hangar's two varied styles – a silvery milled aluminum exterior and wood sheathing interior – make for an unmatched look. Overlooking the terrace and vineyard, this location is perfect for your ceremony and reception. The combination of this wedding venue's historical features and natural setting exudes an undeniably romantic aura sure to make your wedding authentic and unforgettable. The team at Saltwater Farm Vineyard prides itself on its sensitivity to your needs and its unwavering customer service.
Saltwater Farm Vineyard is sure to amaze you and your guests if you pick this as your wedding venue. The scenery makes for picturesque moments for your photographer to capture — memories for you to take on into the future and treasure for years to come.
Address: 349 Elm St, Stonington, CT 06378
Photo: (860) 415-9072
4. Priam Vineyards
Priam Vineyards is a charming wedding destination in Colchester, Connecticut. This vineyard was founded in 1998 and opened to the public in April of 2003.
They are situated on 40 acres of farmland, with 20 of those dedicated to growing grapes.
The vineyard offers stunning views of the New England countryside.
The winery is entirely solar-powered, and its vineyards are sustainably grown.
They have twelve internationally recognized award-winning wines that are estate-grown, blended, bottled, and cellared on-site.
Suppose you are a wine enthusiast looking for a breathtakingly romantic destination wedding experience (equipped with some of the best wine in Connecticut). In that case, this might be the perfect venue for you.
Priam Vineyards can accommodate 40 to 500 wedding guests on their property. They host events, including wedding receptions, wedding ceremonies, cocktail hours, rehearsal dinners, bridal showers, post-wedding brunches, and more to give you the best all-around experience.
The staff at Priam Vineyards prides themselves on their friendly demeanor and ability to inspire your wedding vision to come to life. They encourage you to customize and decorate your wedding as you see fit and know how to help you complement the vineyard's gorgeous natural setting.
The wedding venue's beautiful surroundings provide a multitude of outdoor activities, no matter the season. Nearby Priam Vineyards, you have access to the Spa at Norwich Inn, Moodus Resort Area, Mohegan Sun Casino, the Goodspeed Opera House, the Mystic Seaport, and several state parks, including the Airline Hiking Trail. It's a gorgeous place for those seeking a luxury destination wedding experience.
The venue's additional services include a bridal suite, a fully-staffed bar, event planning, sound and lighting options, and setup and cleanup of your event. Another highlight is they have also partnered with a catering company serving some of the most delicious, locally grown artisan dishes that pair perfectly with their award-winning wines.
Address: 11 Shailor Hill Rd Suite A, Colchester, CT 06415
Phone: (860) 267-8520
5. Haight-Brown Vineyards
Haight-Brown Vineyards, the first winery in New England – located in Litchfield, CT. If you're looking for a rustic, Tudor-style theme for your nuptials, you might just fall in love with this striking venue. This venue can accommodate up to 100 guests and is perfect for an intimate wedding or elopement.
You receive access to their entire indoor facilities, closed to the public, unlike many wineries, allowing you to have a private, undisturbed, and quaint setting for your wedding. The upstairs terrace provides a stunning view of the property. Below, the expansive patio is ideal for your wedding guests to sip wine, reflect on fond memories, and mingle throughout your reception.
Haight-Brown only hosts a few weddings per year and typically only to friends of the venue (you can try adding them on Facebook 😉). So if you would like to book this incredibly stunning wedding venue, you should inquire with them over a year in advance to check on your date.
Address: 29 Chestnut Hill Road, Litchfield, CT 06759
Phone: (860) 567-4045
Wineries and Vineyards Provide the Perfect Backdrop for Your Wedding
Celebrating your wedding day at a winery or vineyard can provide you with one of the most captivating, romantic settings to host your ceremony and reception. Connecticut boasts an abundance of stunning winery and vineyard wedding venues, making it so hard to pick a list of just five. From ceremonies held outdoors with expansive views to intimate indoor nuptials at a historic Tudor-style winery and an array of world-renowned wine to taste, these CT wedding venues all have something special to offer you.
Unique Wedding Venues in CT – Barn and Rustic Wedding Venues
A barn or rustic-themed wedding can offer you a cozy and comforting setting to host your big wedding day. As opposed to having your wedding at a vineyard or fancy castle or mansion, there is something more nostalgic and down-home about having your wedding take place at one of the barn-style or rustic wedding venues in CT. With so many beautiful rustic and barn wedding venues in CT, it can be a very daunting decision to make. To get you inspired, we have compiled a list of our favorite rustic wedding venues in CT with a rustic or farmhouse feel to them.
1. Wrights Mill Farm
Wrights Mill Farm is a charming wedding venue in Canterbury, Connecticut. It is situated on 240 acres of beautiful farmland that dates back to the eighteenth century. You will enjoy rustic backdrop features such as the farmhouse, barns, stone walls, and an antique water-powered mill at this venue. 
At Wright Mill Farm, you will be able to have the intimate wedding of your dreams. They have several different venues for you to choose from, including a gorgeous waterfall setting perfect for a whimsical wedding ceremony, a short horse-drawn carriage ride from the pavilion. A large lodge can host up to 250 people featuring a covered deck and a large patio with a fire pit. Or a large open-air pavilion can comfortably accommodate up to 180 guests and can be used in case of inclement weather. 
Additional services they offer at this venue can make your wedding day memorable and stress-free. They are happy to provide you with a DJ, catering, horse and carriage services, two horseshoe pits, a bonfire, and even overnight camping options for you and your guests. 
Address: 65 Creasey Rd, Canterbury, CT 06331
Phone: (860) 774-1455
2. The Salem Herb Farm
The Salem Herb Farm is a quaint rustic farmhouse wedding venue located, as you would imagine, in Salem, Connecticut. It was first established in 1840 solely as chicken coops and a hay barn and has been family-owned and operated since then. In 2015, owners Anne and Joe decided to restore the old homestead and turn it into one of the most gorgeous rustic wedding venues in CT.
You will be able to have your wedding ceremony outdoors on their bluestone patio with a stunning arch surrounded by wooden gazebos and a beautiful garden. Then have the reception in the dairy barn, which can easily host up to 140 guests. Inside the dairy barn, you can immerse yourself in the hardwood floors' rustic feel, large wooden beams, barn tables, and chairs. The venue also features an open-air bar and a patio with a fire pit to enjoy cocktail hour. With the combination of the venue's fabulous indoor and outdoor space, you are sure to make your wedding day beautiful and memorable.
Salem Herb Farm can also offer additional services such as an event coordinator to help make your wedding day seamless and stress-free. They have a separate catering and set up room in the barn for you to use. They also have ample on-site parking for 65 cars. You will also have access to a Salem Herb Farm representative for the entirety of your wedding day to assist you. They are available from May to October for booking your wedding day in the best season of the year.
Address: 320 Hartford Rd, Salem, CT 06420
Phone: 860-859-3344
3. Wood Acres Farm
Wood Acres Farm is an old fruit and poultry farm centrally located in Terryville, Connecticut. The owners took great care to turn it into one of the most charming and rustic wedding venues in CT. The venue features 25 acres of beautifully wooded trails, gardens, and sister ponds. 
At this spacious venue, you will have multiple outdoor wedding ceremony locations to choose from as well as access to a rustic barn perfect for the reception or inclement weather. The barn features giant windows and two sets of french doors, combined with the rustic and elegant touches to give you a truly unforgettable atmosphere. Wood Acres Farm can host intimate weddings with up to 140 guests. They also offer a bridal cottage with its private porch and garden on the property for you to get ready on your wedding day. 
Wood Acres Farm can ensure a truly memorable wedding day. They offer horse-drawn carriage rides as a jaw-dropping way to enter your wedding ceremony and private celebratory rides for newlyweds after their ceremony with champagne and hors d'oeuvres. Only one wedding per day is scheduled to give you the attention and time you deserve.
Address: 68 Griffin Rd, Terryville, CT 06786
Phone: (860) 583-8670
4. Inn at Mount Pleasant
The Inn at Mount Pleasant is a barn wedding venue nestled in Torrington, Connecticut. The barn encapsulates the spirit of the eighteenth century, taking you back in time. They have a quaint bed and breakfast on-site that can accommodate up to 10 guests between four rooms with a continental breakfast and modern amenities. This venue is perfect for an intimate wedding setting of up to 170 guests. If you would like to have a larger wedding of up to 350 guests, this venue allows for tents to be set up for more outdoor space and inclement weather. At this venue, you can choose from three different ceremony locations. The grounds are pleasantly surrounded by wooded areas, meadows, and stone walls.
Their rental package includes 15 custom farm wooden tables, four high top cocktail tables, bistro lighting on the inside of the barn, two chandeliers, and a fire pit. There is an onsite coordinator to help you on your wedding day to ensure you have a stress-free experience.
Address: 505 University Dr, Torrington, CT 06790
Phone: (845) 546-2553
5. Woodbury Barns and Farm
Woodbury Barns and Farms is a luxury wedding destination situated in Woodbury, Connecticut. Woodbury was recently voted to be "The Most Charming Town In Connecticut" by Reader's Digest Magazine. This homestead was established in 1706, with the barn dating back to the nineteenth century. They offer bed and breakfast for 16 guests with six guest rooms, three and a half bathrooms, a lovely living room, dining room area, gym, library, spa, gourmet kitchen, stone terrace, and a fire pit. The 8,000 square foot barn is very spacious and features a conference room, antique shop, retail spaces, design studios, wine cave and cellars, and a private tasting room. 
The venue is conveniently nestled in the heart of downtown Woodbury and was the first property in The Historic District. This venue is convenient, centrally located, beautiful, and historic. The 20-acre property is composed of rolling hills next to stunning one hundred feet tall granite cliffs with a stream running through it to a two-acre pond with an abundance of wildlife. They offer extra activities such as a horse riding paddock, croquet, lawn games, and a fire pit.
Woodbury Farms is one of the most rustic wedding venues in CT and has been featured on television, in films, and print. Their indoor space can accommodate up to 50 guests, while the outdoor area can accommodate up to 350 guests if you want to have a larger wedding.  
Address: 557 Main St S, Woodbury, CT 06798
Phone: (203) 266-4500
6. South Farms
South Farms is a peaceful wedding venue located in Morris, Connecticut. The Paletsky family has owned it for four generations, over which they have turned it into one of the most desired wedding venues in CT. 
This venue is home to the award-winning White Barn, Connecticut's largest historic farm wedding venue on one of the state's most iconic farms. The barn offers a large 20,000 square foot space for you to decorate and customize to your liking for your wedding day. The White Barn has several various areas that can be used, including the parlor, the hayloft, bull room, and stone barn. This venue's outdoor space offers a meadow with a pond, a gazebo, multiple bridges, and trails that encompass the 150-acre property.
South Farms can accommodate up to 80 guests indoors, with 100 more guests in the outdoor tented area. Their services with the venue include setup and cleanup of your wedding, chairs, tables, and outside vendors. South Farms also only has one wedding or event per day to ensure your privacy and undivided attention. 
Address: 21 Higbie Rd, Morris, CT 06763
Phone: (860) 567-9847
Barn and Rustic Weddings Venues Can Be The Most Comforting
There is a reason that barn and rustic wedding venues in CT are so popular. You really can't beat the cozy, comforting vibes you get from these venues. Having a wedding at these venues will get you away from the hustle and bustle of your everyday life so that you can truly focus on making your dream wedding the best day of your life.
5 Unique Wedding Venues in CT – Mansion and Castle Wedding Venues
If your taste is more suited to feeling like royalty on your wedding day, then you might find that a mansion or castle wedding venue is exactly what you are looking for. It turns out that you don't have to travel abroad to places like Europe or Scotland to enjoy a luxurious fairytale wedding when there is a fantastic selection of wedding venues that offer this style. Many of these venues boast stunning scenery and outdoor spaces with courtyards, gardens, or majestic views of the Connecticut countryside, making them perfect for an indoor-outdoor event. Check out our list of picturesque mansion and castle wedding venues across Connecticut and get inspired for your fairytale wedding. 
1. Saint Clements Castle
Saint Clements Castle is a picturesque wedding venue built at the start of the twentieth century. This beautiful castle is situated on a 90-acre property in Portland, Connecticut. You are sure to be astonished by the timeless beauty of the manor house and the stunning grounds of this estate featuring the Connecticut River running through it. This venue will take you and your guests back to a time of the bygone era for the perfect fairytale wedding.
Sixteenth-century castles from Europe inspired the manor with French Tudor style entrances and two Norman Towers. With two spacious ballrooms, the Waterford and Prince Edward ballroom, you and up to 260 guests in the larger ballroom can dance and dine under sparkling crystal chandeliers. Each of the ballrooms is well maintained with modern refurbishments, while the luxurious carpeting and wainscoting exude a charming ambiance. Outdoors, dark wood beams laden with ivy, and vine-covered arches provide for a picturesque backdrop. This mansion also has a tavern, stone-walled art gallery, grand fireplace, wood vaulted ceilings, and multiple immaculate gardens, making it feel like an illustration straight out of the storybooks.
This venue offers wedding packages to make your wedding as stress-free as possible, including everything from cake, cuisine, and bar services. Everything from dinnerware, choice of colored napkins, linens, elegant gold Chiavari chairs, and banquet tables are also included and set up for you. Your guests are sure to feel treated by the table-side wine service with dinner and hors d'oeuvres served by butlers at this exuberant venue. For the cuisine, you will have the option to have it plated or gourmet stations. This venue has a whole team of wedding coordinators to make planning and day-of orchestration of your wedding a breeze. If you want to feel like royalty on your wedding day, this extravagant castle is the right location, service, and decor to make you feel as if you are in a romantic novel.
Address: 1931 Portland-Cobalt Rd, Portland, CT 06480
Phone: (860) 342-0593
2. Lord Thompson Manor
Lord Thompson Manor is a gorgeous estate featuring a mansion and cottage house on 40 acres of pristine land in Thompson, Connecticut. At this venue, you will experience a special mix of comfort and elegance when this manor turns into your home for the weekend. The owners have put a great deal of energy into designing the details to showcase your individuality and bring excitement for the weekend's duration to create vivid memories that will last a lifetime.
The manor specializes in what is known as a "Weekend Wedding" concept in which they will host the rehearsal dinner and a late-night gathering on a Friday. Then on Saturday, you will be able to enjoy events such as lawn games, luxurious spa treatments at the private spa on property, wedding ceremony, and reception, followed by the after-party. Wake up Sunday morning to a farewell breakfast or brunch to conclude the weekend, and this is the weekend wedding experience you will receive, all included in your exclusive stay at Lord Thompson Manor. 
This Establishment's "weekend weddings" are significantly distinguishable from other wedding facilities that make it one of the unique wedding venues. The highly trained and professional staff work tirelessly to create a memorable three-day experience for guests. Each part of the experience is tailored uniquely to the bride and groom's particular needs, from elaborate floral arrangements to extravagant cakes and candlelit decor. The manor flaunts chefs celebrated by the James Beard Foundation. They provide you with a diverse variety of gourmet menu options made from scratch and cooked fresh on the premises. Lord Thompson Manor will also provide you with full wedding coordination services that will develop, manage, and execute plans for your weekend wedding so you can focus on enjoying yourself and reveling with your guests. This venue also boasts an impressive list of top-notch New England bands and musicians, videographers and photographers, cake bakers, florists, and limousine services to make the weekend truly memorable.
Address: 286 Thompson Hill Rd, Thompson, CT 06277
Phone: (860) 923-3886
3. Bill Miller's Castle
Bill Miller's Castle is a gorgeous venue that was once a horse barn from the 1880s that the owners took great care and attention to transform into a magnificent castle wedding venue in 1965. Since then, Bill Miller's Castle has served as an elegant venue for weddings, corporate events, and special occasions of all sorts. This venue is conveniently located in Branford along Route 1 nearby the beautiful Connecticut shoreline. 
The experienced staff at Bill Miller's Castle will ensure that you can enjoy every moment of your special day. They will provide you with all the services you need, such as a bridal suite, lighting and sound system, event planning, setup and cleanup, in-house catering and bar, bartenders, servers, and a valet. 
This family-owned venue will impress you and your guests with the meticulous attention to detail evident throughout the castle and grounds. Flaunting exposed reclaimed beams, natural stonework, rare antique furniture, and an antique bell weighing in at more than a ton, you will find this venue to be a picturesque backdrop for your wedding day. The castle features five functional field-stone fireplaces, elaborate stained glass windows, crystal chandeliers, three-story high cathedral-style ceilings, and a large dance floor to dance to your heart's content. From the moment you walk through the door at this grand venue, you will feel like you are getting married.
Address: 834 E Main St, Branford, CT 06405
Phone: (203) 488-4583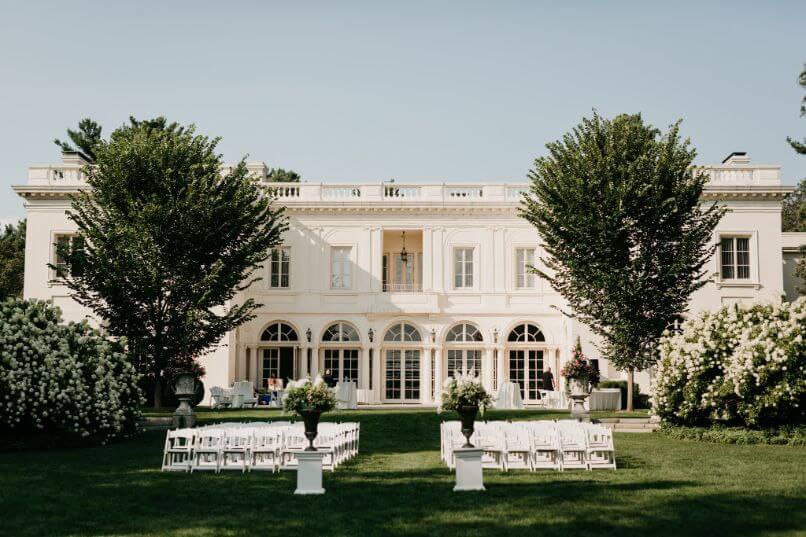 4. Wadsworth Mansion
Next on our list of mansions and castles is Wadsworth Mansion. This white-walled mansion is a luxurious wedding destination situated on 103 acres of parklands and well-manicured lawns in Middletown, Connecticut. It is the centerpiece of the Wadsworth Estate Historic District, owned by the City of Middletown and operated by the Long Hill Estate Authority. 
At this beautiful mansion, you have the freedom to choose your vendors and customize your wedding to your taste, and the staff will personalize the experience for you and your guests. They will host only one wedding a day to ensure your privacy and allow you to choose the hours and how you would like to use the space. Wadsworth mansion offers you a large spacious ballroom that is fit for seating up to 200 guests for a seated dinner with the option to have the patio tented to accommodate more guests. They will allow you to hold your ceremony anywhere on the property, but the most popular locations are the lawn, patio, and tennis pavilion. 
Address: 421 Wadsworth St, Middletown, CT 06457
Phone: (860) 347-1064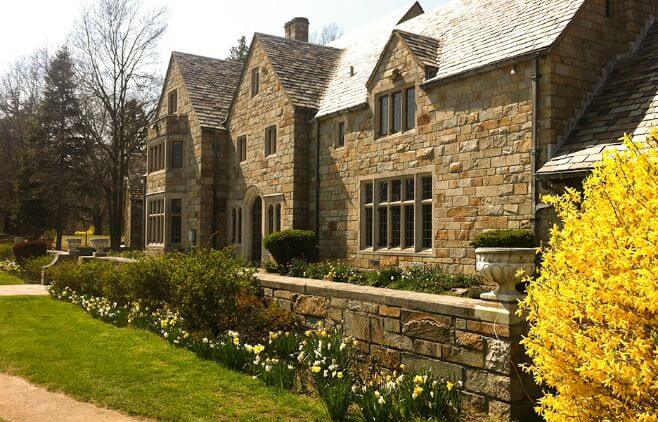 5. Gallaher Mansion
Gallaher Mansion is situated in Norwalk, Connecticut, in Cranbury Park. This mansion was built in 1930 and named after an inventor who built it, Edward Beach Gallaher. It is a truly lovely limestone Tudor Revival mansion that has been styled with stained glass windows, carvings, and walnut-paneled rooms. It boasts a large flagstone terrace and gardens right next to it, making it a perfect outdoor entertainment venue. 
Cranbury Park is an expansive 227-acre property that offers many wooded trails and a dog-friendly environment in the orchard. The Great Lawn provides a gorgeous backdrop for wedding receptions and other events in every season. The park also has a challenging 18-hole disc golf course that encompasses the woods for entertainment at your wedding.
The mansion's first floor offers you a foyer, sunroom, dining room, a kitchen with a pantry area, and two restrooms. You will have access to a bridal suite and a groom suite to get ready and look your best for your wedding day. A mansion supervisor will be present on-site and readily available the day of your wedding to ensure everything goes smoothly for you and help with any needs. 
Address: 300 Grumman Ave, Norwalk, CT 06851
Phone: (203) 854-7806
Treat yourself like royalty by having your wedding at one of the mansions or castles in CT
Let's face it, for most of us, our lives aren't filled with mansions and castles, but we all want to feel like royalty. Your wedding day is the perfect opportunity to get out of the normal and celebrate an extraordinary day with the luxurious and exotic atmosphere that can be had at any of these mansions or castles.
5 Unique Wedding Venues in CT – Waterfront Venues
There's something special about celebrating your love next to the water. Not only do you get those stunning photos, but you also get the calming sound of water lapping on the shores. Fortunately, there is no shortage of waterfront wedding venues in Connecticut!
Take note of these five venues that boast scenic views and gorgeous interiors!
The Riverview
The Riverview is located in the beautiful Weatogue area of Simsbury, Connecticut, overlooking the Farmington River. Although located in rural Connecticut, this private event venue is an elegant and chic option for weddings and events. Cathedral ceilings, crystal chandeliers, floor-to-ceiling windows, and a polished granite dance floor provide a breathtaking space to make your own.
Couples have their choice between three ballrooms, as well as two romantic tented patios for intimate waterfront ceremonies. The largest space available, the Grand Ballroom, can host up to 700 guests (600 seated). The two other ballrooms, East and West, can accommodate up to 300 guests and the tented pavilions can accommodate up to 275 guests.
All wedding packages include full access to the selected indoor space, the outdoor patios, and a private bridal suite. Additionally, couples are assigned a dedicated event coordinator and two day-of bridal assistants.
Catering services are in-house and included with every wedding package, providing each couple with five hours of open bar service, red and white wines at each table, a champagne toast for all guests, a selection of hors d'oeuvres, the choice of a four-course plated meal or gourmet buffet, and a tiered wedding cake. Linen rentals and centerpieces are also included in the package.
Address: 10 Winslow Place, Weatogue, CT 06089
Phone: (860) 651-5005
2. The Riverhouse
Set on the Connecticut River, The Riverhouse at Goodspeed Station overlooks the Goodspeed Opera House and the historic Haddam Swing Bridge, providing couples and their guests with scenic photo-ops from all angles. The private facility offers ample indoor and outdoor space, giving couples flexibility in their wedding plans.
With every wedding package, couples get full access to the property's grounds, including a magnificent ballroom, romantic ceremony garden, bridal suite, groom's room, children's suite, and private terrace. All packages also include a dedicated attendant for the couple.
The in-house catering services are built into the package, including five hours of open bar service, a selection of passed hors d'oeuvres, a food station for the cocktail hour, a champagne toast for all, wine service with dinner, and a choice of four-course plated meals, a buffet, or food stations. A wedding cake, linens, napkins, china, flatware, glassware, and other decor elements are also included in the package.
Address: 55 Bridge Rd, Haddam, CT 06438
Phone: (860) 345-4100
3. Anthony's Ocean View
Tucked away on the point of the East Shore, Anthony's Ocean View is the only CT waterfront venue on this list that isn't on a lake or river — it's on the Sound! Its corner of the Sound, Morris Cove, is an expansive body of water that is begging for gorgeous wedding photos. With a beachfront ceremony venue and tropical gardens throughout, Anthony's offers Connecticut couples a destination wedding experience without ever leaving the state.
Couples can select between four interior ballrooms, three of which include access to outdoor spaces (private courtyards, gardens, beach access, seaside bars, and an onsite waterfall!). All ballroom packages include a Maitre'd and personal attendant for the couple. 
Onsite catering options are aplenty, providing couples with a number of options to serve their guests. Clambakes, pig roasts, brunches, stations-only menus, hors d'oeuvres-only menus, and premium plated menus present unlimited possibilities. Couples can also enhance their food and beverage options with selected add-ons. With a dedicated event concierge onsite, there's no need to worry about anything going wrong.
Address: 450 Lighthouse Road, New Haven, CT 06512
Phone: (203) 469-9010
4. The Candlewood Inn
The Candlewood Inn gets its name from—you guessed it—Candlewood Lake! Visitors are treated to panoramic views of Connecticut's largest lake, with water as far as the eye can see. If that's not enough, its western exposure makes it the perfect setting for jaw-dropping sunset photos. Hello, golden hour!
In addition to a ballroom that accommodates up to 300 guests, couples who tie the knot at the Candlewood Inn also get access to a private bridal suite, sprawling waterfront lawns, a private pier, and lakeside terraces. Additionally, every wedding package is assigned an event coordinator and two day-of bridal attendants.
In-house catering services are also included in the package. Every wedding gets five hours of open bar service, red and white wines at each table, a champagne toast for all guests, a selection of hors d'oeuvres, the choice of a four-course plated meal or gourmet buffet, and a tiered wedding cake. Linen rentals and centerpieces are also included in the package.
Address: 506 Candlewood Lake Road, Brookfield, CT 06804
Phone: (203) 775-4517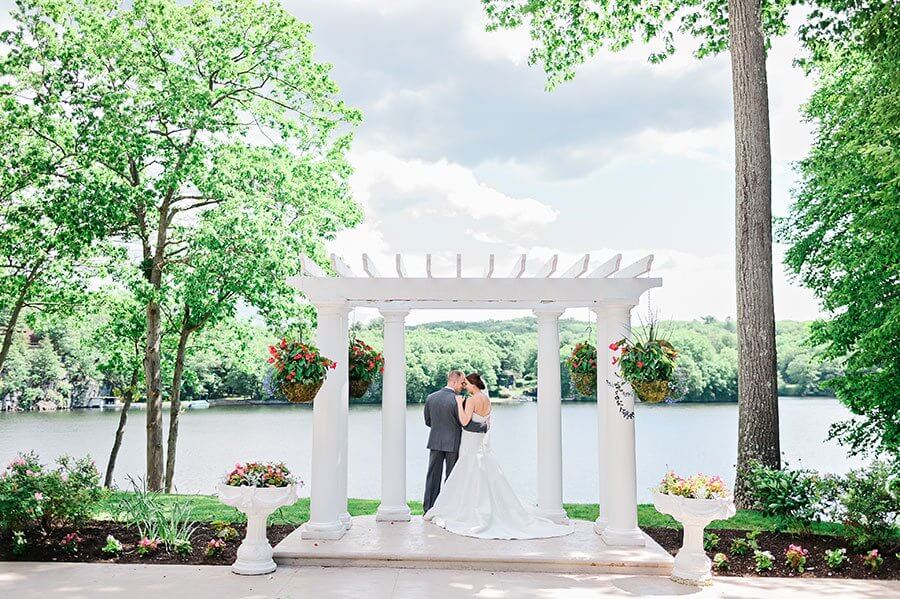 5. The Waterview
Located on beautiful Lake Zoar, The Waterview boasts 13 acres of secluded property and plenty of waterfront spots for hosting ceremonies and taking photos. With three ballrooms to choose from and a maximum capacity of 700 guests, couples can really make this lakeside venue their own private retreat for the weekend. Perfect for the couple that prefers to go off the beaten path!
Each ballroom is dressed to the nines with luxurious details, including fireplaces, marble dance floors, and crystal chandeliers. Oh, and let's not forget the floor-to-ceiling windows that give guests a full view of the lake. Couples also get access to lakefront patios and gardens that are beautiful all year round. Additionally, every wedding package is assigned an event coordinator and two day-of bridal attendants.
In-house catering services are also included in the package. Every wedding gets five hours of open bar service, red and white wines at each table, a champagne toast for all guests, a selection of hors d'oeuvres, the choice of a four-course plated meal or gourmet buffet, and a tiered wedding cake. Linen rentals and centerpieces are also included in the package.
Address: 215 Roosevelt Drive, Rte 34 Monroe, CT 06468
Phone: (203) 261-0915
Go above and beyond guest expectations with a gorgeous waterfront venue in Connecticut!
From the perfect photo ops to the calming energy of being waterside, go ahead and spoil yourself with the perfect waterfront wedding venue in Connecticut for your special day. Each of these venues provides couples with top-notch service and stunning interiors, so there's no need to be concerned about the weather. Your wedding will be beautiful regardless of when you celebrate your love!
5 Unique Wedding Venues in CT – Banquet Halls
A grand banquet hall is a popular choice for hosting weddings in CT, as they're as efficient as they are beautiful. Since they are equipped for large-scale events, planning and production are streamlined for a simple process.
We are blessed with a number of stunning banquet halls for Connecticut weddings of all sizes — here are five that fit the bill!
1. The Society Room of Hartford
Located in the heart of downtown Hartford, The Society Room of Hartford provides all of the opulence and luxury you could want in a banquet hall. With a soaring ceiling, marble columns, and a grand staircase, its elegant ballroom is the perfect backdrop for an unforgettable Connecticut wedding. 
In addition to the ballroom, there are three adjacent lounge areas with full-service bars. Perfect for cocktail hour, a photo booth, or simply an intimate hangout space, couples can get creative with themed designs to create a fully personalized experience. Couples also get access to a bridal suite, groom's cottage, and an overnight suite at a nearby hotel.
Wedding packages also include in-house catering: five hours of open bar service, red and white wines at each table, a champagne toast for all guests, a selection of hors d'oeuvres, the choice of a four-course plated meal, gourmet buffet, or chef's stations, and the choice between a cake or cupcakes for dessert. Additionally, every wedding package is assigned a personal wedding attendant, two Directors of Operations, and one server per every 15 guests.
Address: 31 Pratt Street, Hartford, CT 06103
Phone: (860) 524-0796
2. La Bella Vista
Situated just north of the Great Brook Reservoir outside of Waterbury, CT, La Bella Vista is the ideal destination for those who want to get away from the city. From the open-air Courtyard to the elegant Grand Ballroom, couples can choose between indoor and outdoor spaces to tie the knot. The venue can accommodate up to 500 guests.
La Bella Vista is a full-service venue, so all packages include an in-house coordinator to plan all of the onsite details, saving couples from hiring an outside planner. Couples also get access to a private bridal suite and maitre'd service throughout the event. Packages can be upgraded to include a separate lounge for cocktail hour.
In-house catering is included in all packages, with different selections and enhancements available for upgrades. All weddings get an open bar, champagne toast, signature cocktail, and bottled wine on all tables. A selection of hors d'oeuvres, a four-course plated dinner, and a wedding cake are included in all packages, with additional food and dessert options available for upgrade.
Address: 380 Farmwood Road, Waterbury, CT 06704
Phone: (203) 527-4006
3. The Woodwinds
The WoodWinds is a breathtaking European-style banquet hall that is built for the most lavish of Connecticut weddings. With two grand ballrooms, it can accommodate up to 600 guests. Marble dance floors, deluxe bridal suites, and beautifully landscaped grounds provide couples and their guests with the royal treatment. Couples can say "I do" in front of a waterfall, in an open-air gazebo, on a garden bridge, or in a luxurious ballroom — take your pick!
All couples are treated to the VIP experience, with a personal coordinator and day-of director taking the lead on planning and production. Tables, chairs, linens, and napkins are also included.
Wedding packages include in-house catering, featuring a selection of hors d'oeuvres, premium open bar, champagne toast for all guests, bottled red and white wines, and non-alcoholic beverages. Owner and chef, Antonio Suppa, infuses all menus with his father's signature cuisine, blending old-world style with new-world taste.
Address: 29 Schoolground Road, Branford, CT 06405
Phone: (203) 481-6577
4. Aria
In every little detail, Aria is all about luxury. With a palatial ballroom, beautiful gardens, and an al fresco patio, couples can celebrate their love in the finest surroundings — whether they choose to get hitched indoors or outdoors. Aria can accommodate up to 500 guests. 
Picturesque gazebos, trellises, and fountains make for stunning wedding portraits. Not to mention, Aria's property offers sprawling panoramic views of the surrounding mountains. 
Wedding packages include a selection of hors d'oeuvres, a personalized three-course menu, champagne toasts for all guests, open bar, red and white wines at all tables, a custom tiered wedding cake, and an experienced staff ready to bring your wedding vision to life. Couples also get access to a private bridal suite.
Address: 45 Murphy Road, Prospect, CT 06712
Phone: (203) 758-0096
5. Cascade
Just 15 minutes from downtown New Haven, CT, Cascade offers couples and their guests secluded luxury with easy access to all the city has to offer. 
With a maximum of 375 guests, Cascade couples can choose between the ornate Ballroom and the intimate Garden Room (with attached al fresco terrace). Couples also have access to one or two Bridal Suites (depending on size of event), Piano and/or Fireplace Lobby, and Waterfall Terrace.
Cascade offers a number of different menu packages, each including open bar, champagne toast, a selection of hors d'oeuvres, and choice of plated meals, stationed reception, or buffet. Couples can also opt for a custom menu.
Address: 480 Sherman Ave, Hamden, CT 06514
Phone: (203) 907-0595
Celebrate your wedding in luxury and opulence at a grand banquet hall in Connecticut!
Show your friends and family the VIP treatment by hosting your CT wedding at a jaw-dropping venue that can accommodate events of all sizes.
5 Unique Wedding Venues in CT – Indoor/Outdoor Venues
Booking a CT wedding venue that offers bountiful space indoors and outdoors is an excellent way to give yourself options without worrying about weather-related challenges. The flexibility of moving between an outdoor ceremony site to an indoor reception space (or vice versa!) ensures your wedding planning journey will be smooth, seamless, and stress-free.
Here are five Connecticut wedding venues that provide indoor and outdoor settings for your dream CT wedding.
1. The Farmington Polo Club
The Farmington Polo Club is, as you may have guessed, a full-fledged polo club and equine facility. But it's also a stunning venue for weddings and events! 
Tucked away on 80 acres in the heart of Farmington Valley, couples planning a Connecticut wedding have their choice of setting. From a spacious ballroom to a luxurious veranda to the sprawling lawn, any style of wedding can come to life at the Farmington Polo Club.
Plus, with in-house catering options, onsite food trucks, and mobile bars to choose from, couples and their guests will be wined and dined with the finest selection of food and beverages. This is certainly one Connecticut venue you don't want to miss!
Address: 162 Town Farm Rd, Farmington, CT 06032
Phone: (860) 677-7341
2. The Lace Factory
The Lace Factory is truly a blank-slate kind of wedding venue, offering CT couples the freedom to get creative and make the space their own. Accommodating up to 225 people, it's the perfect setting for intimate weddings or for full-capacity celebrations. 
For ceremonies, couples can choose between outdoor spaces in the courtyard with beautiful views of the Connecticut River or inside the trendy industrial venue that is bathed in natural lighting from its towering windows.
In addition to on-site catering through an exclusive partner, couples at The Lace Factory can arrive at their wedding on a historic Pullman coach thanks to a partnership with Essex Steam Train. How's that for a one-of-a-kind entrance?
Address: 161 River Street, Deep River, CT 06417
Phone: 860-526-4445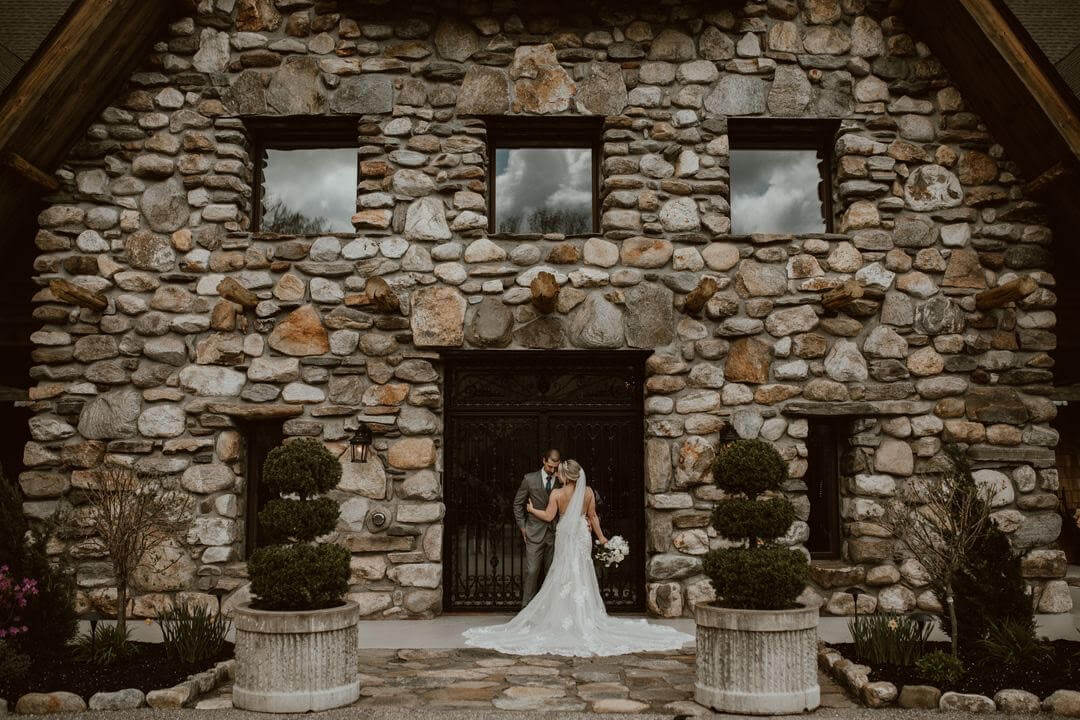 3. The Stonehurst at Hampton Valley
The Stonehurst at Hampton Valley is a truly remarkable venue that boasts two separate venues for the best of both worlds. Engaged couples have the option between The Mansion and its stunning Swiss architecture or The Barns with its rustic chic aesthetic. Or, book them both for a fully inclusive experience!
Each venue includes access to an outdoor ceremony space, giving the choice between tying the knot in an enchanted forest or riverfront on the Little River. 
The Stonehurst is a full-service venue, so Connecticut couples will also get access to in-house catering and coordination services from the expert team of event professionals.
Address: 119 Providence Turnpike, Hampton, CT 06247
Phone: 860-377-4816
4. The Pond House Cafe
Between the Garden Room and Elizabeth Park, The Pond House Cafe has everything to offer a couple planning a wedding in Connecticut. Say "I do" in a beautiful garden, then take the party inside to the banquet hall. Off the Garden Room, there's also a terrace that offers scenic views of the property. 
The Pond House Cafe offers a number of packages to suit a couple's needs, each which includes in-house catering, tables and chairs, linen rentals, a wedding cake, and a coordination team to turn wedding dreams into a reality. 
The venue is known for its onsite cafe that serves delicious, eclectic cuisine, sourcing ingredients from just outside its doors. Rest assured that guests will be eating well throughout the night!
Address: 1555 Asylum Avenue, West Hartford, CT 06117
Phone: 860-231-8823
5. The Pavilion at Crystal Lake
Seeking a waterfront setting for your Connecticut wedding? Look no further than The Pavilion at Crystal Lake. As part of the Connecticut Wedding Group, couples get to enjoy a stress-free planning journey on their way to the aisle.
The indoor pavilion is decked out in wood details for a rustic feel, with a wall of windows providing the perfect overlook of Crystal Lake. But there's no reason to enjoy it only from indoors! Couples and their guests can step outside and be at the lakefront in seconds, or even host their ceremony in front of the sparkling water.
Plus, their in-house catering services offer seasonal menus filled with fresh ingredients prepared by their exclusive chef. They offer a number of upgrades to enhance dining and bar packages, so the freedom is yours when it comes to food and beverage!
Address: 144 Prout Hill Rd #1, Middletown, CT 06457
Phone: 860-347-7171
Take your pick of settings at these stunning Connecticut wedding venues!
Why choose between an indoor wedding and outdoor weddings when you can have both? At these CT wedding venues, you can!
8 Barns in Connecticut for a Wedding 
If you're looking for a unique, rustic location to tie the knot at, consider a barn wedding venue in Connecticut! Filled with character and charm, these settings give off cozy, country-chic vibes. Their unique ambiance will certainly make your wedding day all the more memorable!
But with so many options, it can be difficult for engaged couples to choose the best place to host their celebration. To help you out, we've rounded up some of our favorite rustic and barn wedding venues in Connecticut! So take a look at let us know if you'll be adding any of these to your list of potential venues.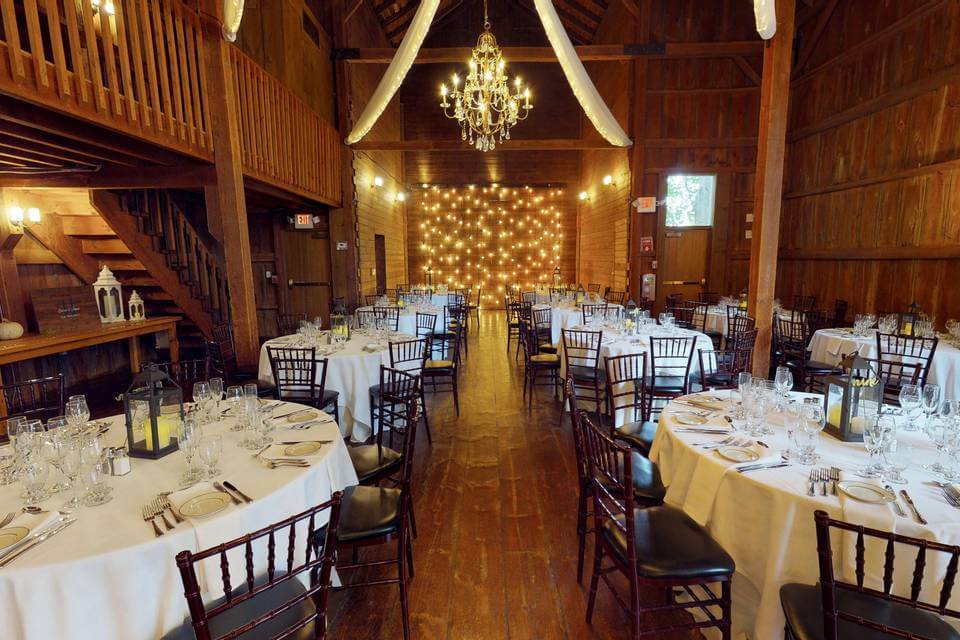 1. The Barns at Wesleyan Hills
The Barns at Wesleyan Hills is situated in the heart of Middletown, CT. With beautiful topiary and a serene lake on its grounds, this former dairy barn provides a blank canvas that couples can easily adorn and make their own.
The vendor even provides a range of elegant decorations guests can use to customize their event. The barn can accommodate 250 guests and has a one wedding per day policy, so everyone can enjoy the celebration without feeling rushed or crowded!
From large windows that offer stunning vistas to a loft space that provides the wedding party with a perfect view of the happenings below, this Connecticut venue covers all of the bases! It also features an adjacent barn area with wooden floors and barrel tables where your guests can enjoy a fun cocktail hour.
Address: 616 Long Hill Rd, Middletown, CT 06457
Phone: (860) 347-7171
2. Tyrone Farm
Host a wedding that's unforgettable at Tyrone Farm, located in Pomfret, CT. This beautiful 170-acre private country estate can accommodate up to 135 guests. With its picturesque rolling hills and classic New England charm, it's a beautiful setting for your special day.
The breathtaking view is complemented perfectly by a lovely granite pergola, setting a romantic tone for your ceremony. And if it rains, no problem — they can provide a tented terrace to keep everyone dry! For the reception, couples can choose between the historic chestnut barn or the partially tented bluestone terrace.
Address: 89 Tyrone Rd, Pomfret Center, CT 06259
Phone: (860) 928-3647

3. Candlelight Farms Inn
Say "I do" at Candlelight Farms Inn and experience the beauty of the New England countryside. This picturesque B&B and wedding venue is perched atop Candlewood Mountain in New Milford, Connecticut. The private 600-acre estate boasts ponds, paddocks, meadows, streams, and breathtaking views. 
The Hangar is a popular wedding reception venue on the property. It sits next to a 26-acre private pond and comes with a prop plane airport. It can host up to 170 guests, and tents can easily be set up if you're expecting more company.
Candlelight Farms Inn also offers various wedding packages depending on the day of your celebration and the number of guests.
Address: 214 Candlewood Mountain Road New Milford, CT 06776
Phone: (203) 648-7346
4. Nuzzo's Farm
In Branford, CT, Nuzzo's Farm is perfect for those looking to get married in a timeless wedding venue with rustic views, peaceful ponds, and traditional countryside surroundings.
The property offers numerous outdoor altars to choose from, and couples will have no problem finding the perfect spot for their ceremony. The pavilion is a rustic space with indoor and outdoor facilities ideal for evening receptions with up to 250 guests.
Address: 736 East Main St. Branford, CT 06405
Phone: (203) 996-7238 or (203) 506-6119
5. The Barn at Maple Lane
The Barn at Maple Lane is a popular wedding venue in Preston, CT. This elegant, roomy structure has over 2,000 square feet of event space that can seat up to 100 guests.
Adjacent to the barn is the vast outdoor lawn that can accommodate a tent for 200 attendees. The panoramic views of verdant greenery and the nearby pond make for absolutely stunning wedding photos.
They provide recommendations for vendors and caterers upon request, but couples have complete freedom to choose their own and bring their dream wedding to life!
Address: 57 NW Corner Rd, Preston, CT 06365
Phone: (860) 889-3766
6. The Hinterland
Located in Avon, CT, The Hinterland is an excellent wedding venue for couples who want a more intimate celebration with their family and friends. With 2,100 square feet of space, this quaint white barn can hold up to 82 guests.
You can find charming amenities such as a dressing room and reception area here as well. So if you want to say your vows in a cozy setting surrounded by nature and all its beauty, this is the place to book!
Address: 308 Arch Rd, Avon, CT 06001
Phone: (203) 903-7412
7. Worthington Pond Farm
Worthington Pond Farm & Gardens offers couples a breathtaking venue for their once-in-a-lifetime event. A haven of natural beauty in Somers, CT, this option is just minutes away from Hartford. It has several event spaces you can choose from, whether you're looking to celebrate outdoors or indoors.
The Warming House can accommodate up to 50 guests and has a full kitchen, while the Covered Bridge can hold up to 80 people and features a stage as well as a dance floor. So if you want to make an unforgettable statement on your wedding day, make sure to check this location out!
Address: 359 Mountain Road Somers, CT 06071
Phone: (413) 386-3275
8. Wyndcrest Estate
Wyndcrest Estate serves as the perfect backdrop for an elegant, rustic wedding in Bethlehem, CT. This 20-acre horse farm offers splendid views, a romantic gazebo for the ceremony, and plenty of outdoor space for your cocktail hour.
The newly built rustic-style barn can accommodate up to 250 guests and is furnished with tables and chairs, making it easy to plan your big day. In addition, overnight accommodations are available on-site, so you can relax and enjoy the beautiful landscape even after the festivities wrap up.
Address: 68 Kasson Road Bethlehem, CT, 06751
Phone: (203) 528-7724
If you're looking for a rustic wedding venue in CT, you've come to the right place!
Have any questions regarding which Connecticut wedding venue is right for you? We're here to help. Send us a message today to chat with one of our team members!